Olympic Theme Brings Together Top Ten Stars
23 June 2008
Emma Lam

To celebrate Hong Kong's status as co-host city for the equestrian events of the Beijing Olympic Games, EEG have pulled out all the stops and called in ten of its top stars - Jackie Chan (成龍), Nicholas Tse (謝霆鋒), Joey Yung (容祖兒), Lee Jun Ki (李準基), Charlene Choi (蔡卓研), Anthony Wong (黃耀明), Raymond Lam (林峯), Yumiko Cheng (鄭希怡), Vincy Chan (泳兒) and Tian Liang (田亮) to record the event's theme song "Decathlon" <十項全能>.

The song was written and produced by Kwong Wing Chan (陳光榮) and lyrics were by Chow Yiufai (周耀輝). There are also Mandarin and Cantonese versions of the song, which will be launched officially on 01 July at an event to be held at the Shatin Racecourse.

Bringing together the busy stars to record the song was no easy feat for the company, especially for Jackie and Lee who flew in especially for the recording. Tian was unable to return for his part, so EEG arranged for it to be recorded locally. Nicholas had just 4 hours out of his busy filming schedule and Joey had to a day's vacation that she had planned previously.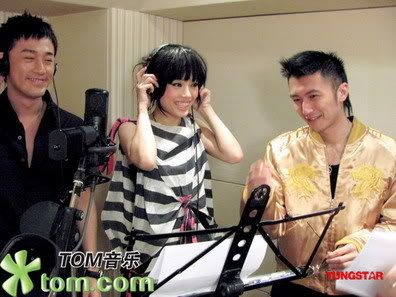 Credits: Batgwa.com